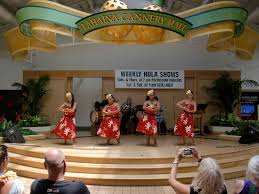 Look no further, your free hula show on Maui is here!
It's not often you will find free hula shows on Maui. Maui hālau (schools) don't offer performances often, and when they do, they can often be found dancing for their local communities. But at the Lahaina Cannery Mall, visitors to the island get a peak at an ancient, colorful, and important historical Hawaiian tradition: the hula. 
Hula dancing is inspired by the land from which it springs: the undulating hips of the dancers mirror the movement of ocean waves; upraised arms simulate the swaying of flowering branches in the wind; stamping of feet the heavy downpour of rain pelting the island's East side. The interaction between dancers tells tales of origin myths, which explain much about the underlying belief system of a culture that is still very much alive for everyone open to receive its wisdom and carry it forward.
Also, hula shows on Maui inspire community and encourage artistic expression, inviting visitors and locals alike to enjoy the show!