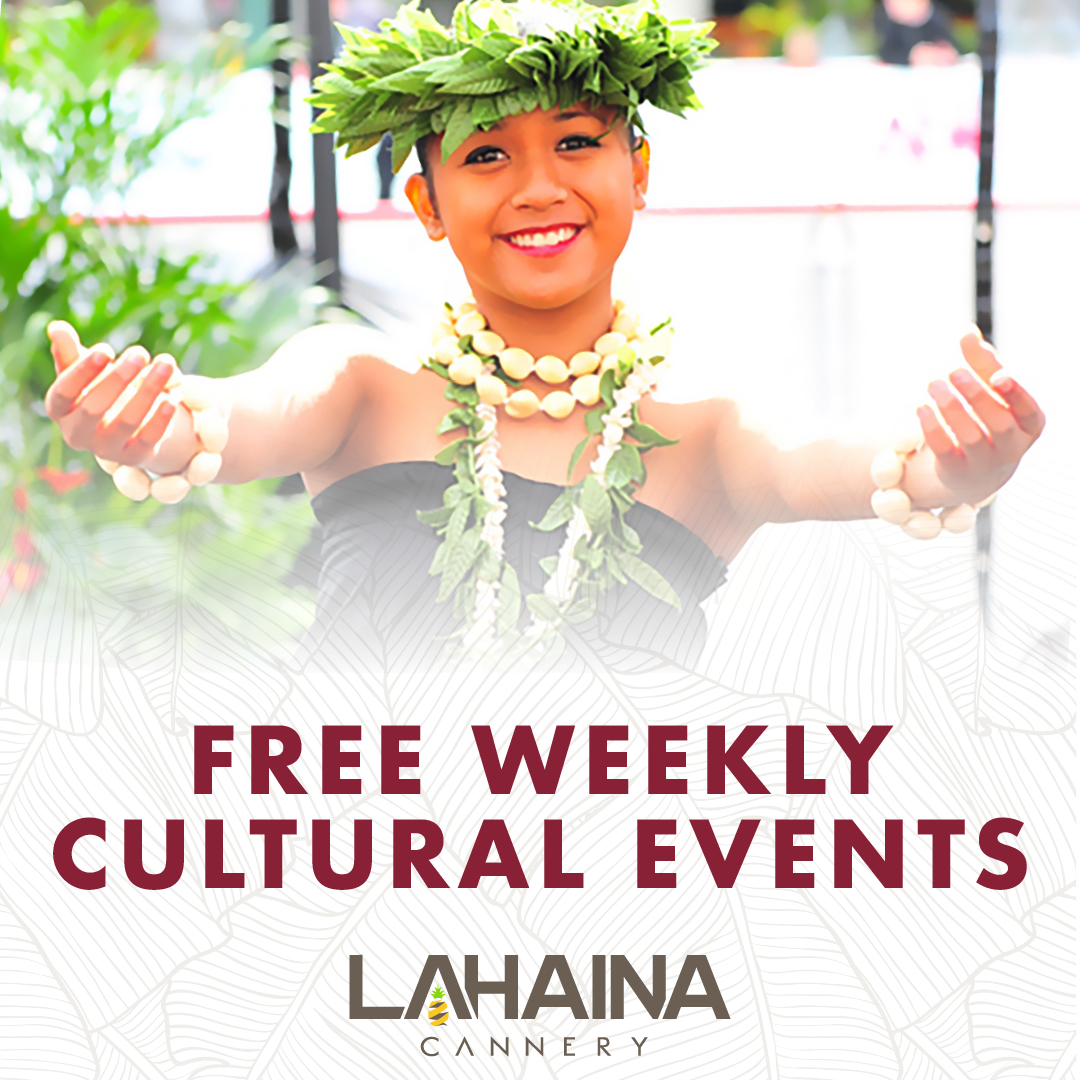 FREE WEEKLY CULTURAL EVENTS
We are so excited to announce the return of the Weekly Cultural Events. Since the pandemic, Lahaina Cannery has surely missed entertaining the visitors and shoppers with Hula Shows, Hula Lessons, Ukulele Lessons and Cultural Crafts.
Now you may join us Tuesday-Sunday with weekly events at Lahaina Cannery! You may view all event dates and times on our Mall Events page. All events are complimentary.
HULA SHOW:
Experience the history of our island through dance with our weekly Hula Show showcasing the many beautiful dances of Polynesia. Join us EVERY SUNDAY at 1 p.m. near the stage.
HULA LESSONS:
Learn the art of the Hawaiian Hula dance with a Kumu (teacher/instructor) on Center Stage. This lesson is for all ages EVERY TUESDAY at 2:30 p.m.
CULTURAL CRAFTS:
Dive into the culture of our island and learn the art of Feather Flower Rosette and Ti Leaf Lei making, Coconut Frond Weaving, and the making of Kukui Nut Bracelets. Join us EVERY WEDNESDAY at 2:30 P.M. at Center Stage to create your very own Hawaiian souvenir. All ages welcome.
UKULELE LESSONS:
Learn to play the instrument that was introduced to Hawaii in 1879 by the Portuguese that later became a staple to the Hawaiian music culture. Join us at the near Center Stage to learn and play the ukulele EVERY THURSDAY at 2:30 P.M. All ages are welcome!
LAHAINA ART SHOW:
Stroll through the outdoor art show presented by Lahaina Arts Society every Friday-Saturday from 9 a.m. to 4 p.m. and talk story with the many local Maui artists. Here you will find paintings, glass art, ceramics, photography, woodcarving, jewelry and more! Located on the lawn fronting Starbucks.
We look forward to seeing you here at Lahaina Cannery!