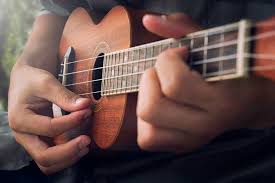 Reasons Why You Should Learn Ukulele in Lahaina, Maui
Ukulele lessons on Tuesday nights at the Lahaina Cannery Mall are not to be missed. Here are a few reasons why you should take advantage of free lessons at this Maui Shopping Mall :
1. Ukes are easier to learn than guitar because they have only four strings to the guitar's six.
2. If you love it, you can buy a ukulele relatively cheap. Think no Starbucks for a week and you can call it good.
3. After memorizing three chords, you can play quite a few songs. You'll come back from your vacation in Paradise and impress everyone at home.
4. Ukulele playing is a mellow invitation for gatherings on the beach. Make some new local friends and jam on into the night.